WhatsApp is working on some cool and exciting features. Popular upcoming features are reported by WhatsApp tipster WABetainfo. Among all features, some are for Android and rest for iPhone users.
Search By Date
This feature is under development and will avialable in the future updates. WhatsApp is tesing this feature, however, this feature testing is on iOS currently. The feature will allows to search messages by date. WhatsApp has already added advanced search feature.
This feature will brings a calendar which lets you pick a date to search chat of a specific day. Well, this feature will be helpful in searching messages in WhatsApp groups.
ShareChat Videos Integration
ShareChat is a content sharing platform, contents are user-generated and allow users to share images & videos. This feature is being tested on Android as well as iOS platforms. With this feature, you can add ShareChat videos to chats and share them.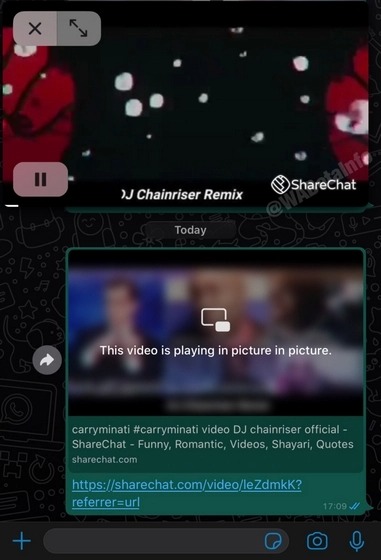 WhatsApp has already added Picture in Picture feature to play Instagram, FB, and youtube videos without leaving the app. Screenshot also hints about PIP for ShareChat link.
Storage Usage Tools
The feature is tested on WhatsApp Android only. Storage tools helps the user to manage chats and media shared in WhatsApp. This feature will come with filters as Large files and Forwarded Files.
As the name suggests 'Forwarded files' will only show forwarded files on WhatsApp. Large Files will let you see received and shared large files. The feature will also add a filter as Photos row to see the all photos in a specific chat. You will also get a sort button with filters as Newest, oldest, and by Size.
Clear Except Starred
We all have some starred messages in our WhatsApp also some annoying ones. The feature is testing on the iOS platform and later be added to Android. This feature allows us to delete chats excluding the starred messages.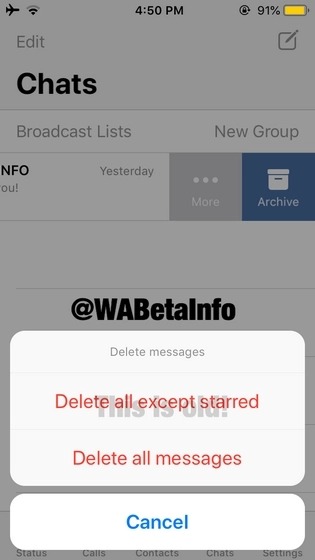 You will soon easily delete annoying images, videos and other media shared in WhatsApp in bulk using this feature. The feature will be added in the Storage except for section.
Search Image on Web and iOS
The WhatsApp has already added feature to verify messages to fight with fake news. This feature is extended to images also, you can search received images on web directly from WhatsApp.
This feature will let you know, whether image is an stock image or any older. The feature 'Search message on Web' is already live on WhatsApp beta 2.20.40.26 update.
The search image on web feature is for iOS platform, for Android it is alredy in development. This feature will replace forwarded button by Search icon on the image shared more than 4 times. On clicking search icon image will automatically uploaded to Google and you will get search results.
Chat Bubble Color
The dark mode is now available on WhatsApp for Android, also WhatsApp Web dark mode is in development. Company is also adding new chat color in dark mode. Current color is more like dark green as compare to upcoming bubble light green shade color.
The color is for the outgoing bubble color only. It seems that WhatsApp is testing more than more color on iOS and Android for chat bubbles.
Among all upcoming popular WhatsApp features, i am excited about the 'Clear Except Starred' feature and 'Storage Usage Tools'.
So, let us know in the comments about upcoming features you are excited about.