Google Play Music is the most loved service by Android users for streaming music offline and online. You have read the news about the killing of Play music service by tech giant Google. The service is to be replaced by Youtube Music launched in 2018. Youtube Music comes with a transfer feature that lets you transfer your Music library from Google Play Music.
The email received by the users notifies about the ending of the service between October and the end of this year. The e-mail directs the user to switch to Youtube Music. Also, the transfer feature of Youtube Music that easily transfer the uploads and recommendations in one click.
How to Transfer Music from Google Play Music to Youtube Music
Download Youtube Music
Make sure your sign-in account is same in Youtube Music as in Google Play Music
Click on Transfer Button in Youtube Music, & all your uploads, purchases and recommendations are transferred to Youtube Music with all personal preferences.
Your recommendations and favorites will immediately be shown up on Youtube Music feed.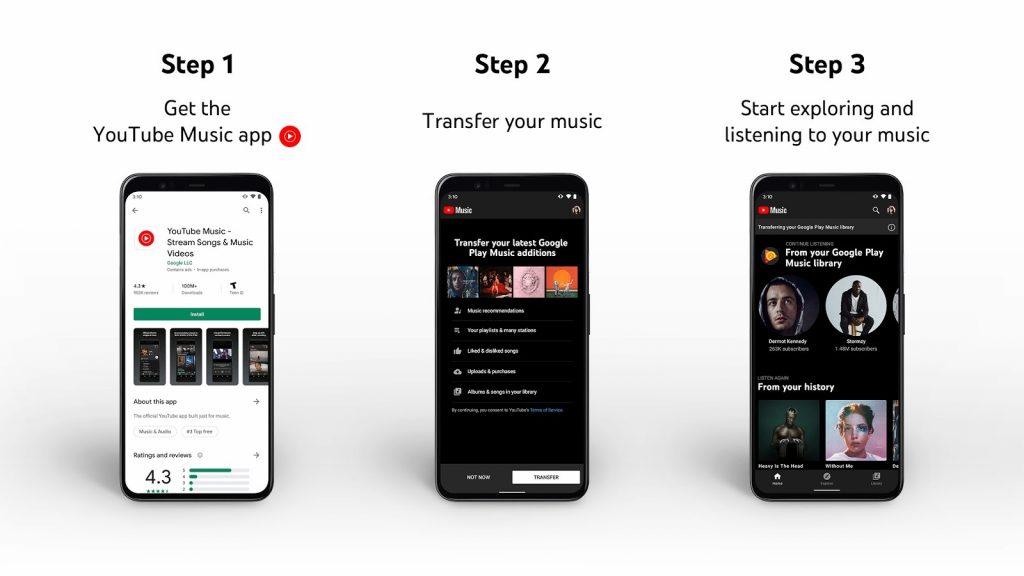 Youtube Music offers more than 65 million official songs, albums, and playlists. The free subscription of service contains ads, to enjoy ad-free music you must have a premium subscription. The premium Youtube Music subscription offers background listening and cast of music.
The Google Play Music premium subscribers will get the equivalent tier of Youtube Music premium. The premium covers all levels of benefits with the subscription. To migrate your Play Music data to Youtube Music you can use Google Takeout to download all your purchase content and data.