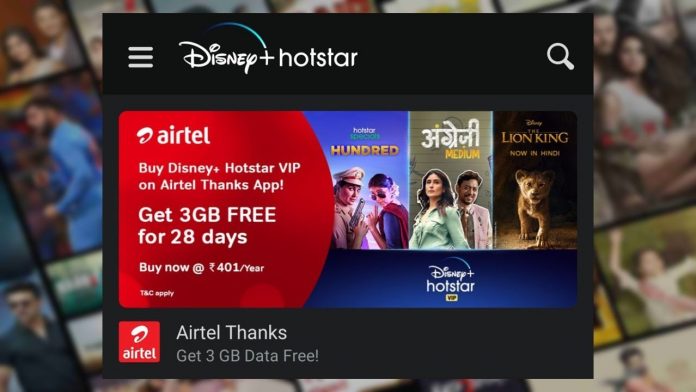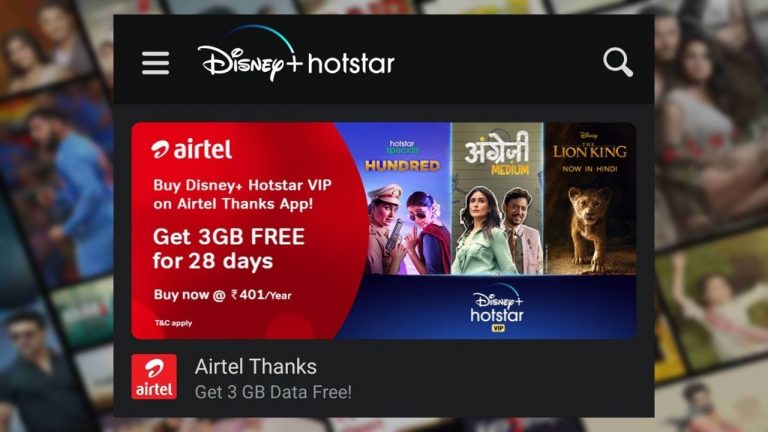 The telecom giant Bharti Airtel has revamped some prepaid plans for users. The new revamped Airtel prepaid plans is offering 1 year of Disney+ Hotstar. The upgraded prepaid plans are Rs. 401, Rs. 448, Rs. 499, Rs. 599 and Rs. 2,698. With these prepaid plans recharge users will get default and 1 year of Disney+ Hotstar service.
The offer is listed on Faq page of Airtel website, and is reported by OnlyTech. In addition to Rs. 401 Airtel prepaid plan offer of Disney+ Hotstar, the plan also gets 30GB additional data for a month. Bharti Airtel has recently stops all the Zee5 premium subscription from the prepaid plan offers.

With Disney+ Hotstar you will get seven multiplex movies and some binge entertainment of exclusive Hotstar specials. However, to watch premium content you have to subscribe to premium in Disney+ Hotstar. The premium subscription is worth Rs. 399 for 1-year validity.
Airtel Rs. 401 prepaid plan benfits
The Rs. 401 prepaid plan of Airtel offers 30GB of data and 1 year of Disney+ Hotstar worth Rs. 399. The validity of plan is for 28 days, this is a data voucher.
To get Disney+ Hotstar for 1 year, you can recharge your airtel prepaid with any of the four plans. Furthermore, the Rs. 599 prepaid plan offers benfits for 56 days as 100 SMS per day with 2GB daily data.