ALT Balaji offers many Orignal shows along with kids exclusive. Also, It offers shows, Music Videos, Comedy, and other videos shows. But, it requires a premium subscription. In this post, I will discuss how to watch ALT Balaji shows with free Premium Subscription.
ALT Balaji Subscription Plan
ALT Balaji offers a very Low-cost Premium Subscription Plan. You can easily buy it without having loads on your Pocket. Purchasing a subscription from the website gives you an exciting additional cashback offers.
The Premium subscription gives you access on 5 devices at a time. For 3 Months it cost Rs. 100 (Rs. 34/month) and Rs. 300 for 12 Months (Rs. 25/month).
Applications to watch ALT Balaji shows with a free premium subscription
Airtel Tv
app services are completely free for airtel users. It offers Live Tv, News, Tv-Shows, and Originals. ALT Balaji, ZEE 5, HOOQ, Hungama Play content are also available on Airtel Tv. It offers 13+ Languages channels for life. What you required to have an airtel customer and downloaded Airtel Tv on your Phone. You can also browse the web to Airtel Tv watch ALT Balaji shows.
Download(Airtel TV)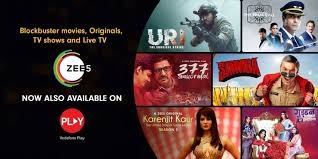 Vodafone Play
Vodafone Play is a live TV app by Vodafone Servies. Also, It offers live streaming shows, TV and ALT Balaji shows to Vodafone subscribers. Vodafone Play offers some Popular movies and content from ALT Balaji. But to enjoy Vodafone Play you have to download the Vodafone Play on Android Phone and Activate it by SMS. The data charges are applicable on live streaming and services on Vodafone Play. Download (Vodafone Play)
JioCinema
JioCinema an entertainment-based app offered by Jio telecom to Jio subscribers. The content offered by JioCinema is large as compared to any others. Also, It offers Movies from all Categories, Music from all genres, and Music and Clips with a free premium subscription to watch ALT Balaji shows. You can also find Hollywood movies from Marvel entertainment and others from your favorite space. Download
ZEE5 Watch Alt Balji Shows Free
ZEE5 is an Indian on-demand video service that offers a bunch of Movies and Orignal shows. Last year, Zee5 and Alt Balaji collab to create content up to 60 originals. These originals are available on ALT Balaji as well as ZEE5. So, you can also enjoy ALT Balaji originals on ZEE5 App with a subscription.
Note: If you are a Vodafone user you can access the ZEE5 Premium subscription for free.
Get ALT Balaji Free Premium Subscription in 2020
Want to get ALT Balaji free Premium Subscription? Look there is nothing free, still, you can watch ALT Balaji shows for free by using the Apps detailed above. You can also purchase the ALT Balaji subscription is Rs. 100 for 3 months as listed in their Plans.