Google one of the biggest tech giants in the world. The services provided by the company are used all over the world and in India. The latest promotional offer by Google for its Payment App; G-Pay or say, "Google Pay". Last year the company brings the Diwali stamp collection as promotional campaign in the app during festive seasons.
Know About Google-Pay Go India Game
This year the Google brings Go India promotional Game. In the game, the user can earn a cashback of up to ₹101 – ₹501 by visiting cities. The Game there is two collections to be made one is a ticket and the other is KM. The kilometers and tickets are used to travel between two cities. For every 5 cities visit you will get a promotional offer with sponsors like Paisa.com, Bewakoof.com, and others.
Cities in Go India Game of Google Pay- All Cities List
There is a total of 30 cities to visit in the Go India game to earn cashback. To visit cities in the game you will need a ticket for the city and KM to cover the distance.
Mumbai
Puri
Srinagar
Agartala
Jamshedpur
Hyderabad
Bhopal
Jaipur
New Delhi
SurajKund
Varanasi
Kolkata
Champhai
Tawang
Kaziranga
Kohima
Imphal
Sohra
Chennai
Bengaluru
Vishakhapatnam
Kachchh
Dharamshala
Amritsar
Goa
Kochi
Bastar
Gangtok
Gaya
Nainital
How to Collect Tickets in Go India Game of Google Pay?
There are various methods in the Game you will find all the option after entering in to the Game.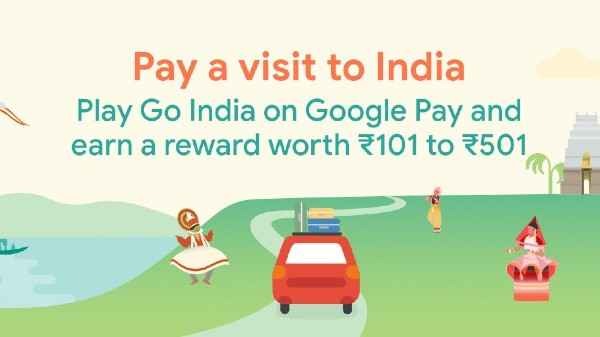 Share a Go India Photo or Map: You have to share the photo from the visited cities or you can share the map with your contact. It does not require to clicked by the recipients. Trick: Click on the share button near the Go India map. open WhatsApp and back to Google Pay, you will get a ticket.
Recharge any prepaid plan for friends and family: There is no minimum amount, the recharge can be done for Rs. 10 to the maximum amount.
Pay for Google Play Via recharge code or UPI: Minimum spend in this method is Rs. 30. The Google Play balance can be used for purchasing any item from Google Play Store.
Pay to Merchant Account: Minimum amount spend is Rs. 30. you can win up to 3 tickets daily by these methods.
Pay DTH or Electricity bills: Minimum spend for bill payment is Rs. 100
Buy Gold or Pay on Makemytrip: Minimum spend is Rs. 100
Pay Freinds on Google Pay: With no minimum spend, you can pay one friend daily to earn tickets.
Trick to Earn Rare Tickets in Google-Pay Go India Game
Users who are in starting of game please don't try this method. After visiting 23-24 cities the left over cities tickets are rare like, Nainital, Goa, Bastar, Gangtok and other. To win or get the rare tickets, do the recharge of Rs. 10 in your or your family number. For every reachrge you will get a rare ticket in the Game.
Trick to Earn more Kilometers in Go India Game
Kilometer in Google Pay Go India game is required and used to travel between the cities. For every visit to the city, you get a photo stamp to share. On sharing the photo with your contacts you will get a random number of Kilometers. Also, you can share the photo of the map. In the game on clicking on the KM button, you will explore a different method to earn KM.
To Earn more KM you can try these methods:
Share the map photo or city stamp
Gift the ticket to a friend and ask to collect it.
Do transaction of Rs. 1 to different UPI IDs you can also use Bank transfer. On every payment, you will get more than 350KM.
How to Get Goa Tickets in Go India Game [Working Method]
In the Go India Game of Google Play, there are some rare tickets like Nainital, Goa, Bastar, Gangtok, and others. Collecting these tickets is difficult. You have used the above methods and tricks, and you are lucky then you may have won any of the rare tickets. To get Goa Ticket in Go India Game, do 4 recharge on your mobile number for Rs. 10. If you have a Jio number, then you will get Rs. 7.47 Talktime and 1GB data as benefits. So, for 4 recharges you are getting 1 GB and Talktime on each prepaid. With recharges, you could also win an additional cashback in Google Pay. Hurry Up
Win Rs. 20-Rs. 100, tickets and KM in Jaipur Ticket Go India
The event is started on 10th November and will end on 12th Nov. The event is in the Go India Game of Google Pay. By participating in the event you can win up to Rs. 20 – Rs. 100, rare city tickets or KM. To participate in the event you will need a Jaipur City Ticket and KM to travel from your present location in the game. After travel, you have to start the event and answer 5/5 questions correctly. You can play only once and win cashback. I have participated in and Win a Gaya Ticket and 870KM.
Google-Pay Go India Jaipur Event Answers
Pink City
Red Fort
Golden Triangle
Johri Bazar
Go to help inside the google pay app
Area
All of them
953
Butter Chicken
All you have to do is to match the option in the above list and mark. The timer in each question is 25 second.